Stickers and Labels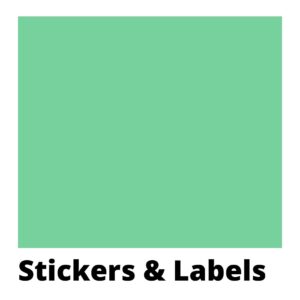 Stickers and labels are an excellent way to get your marketing campaign to stand out and get your brand to stick into customers memories. We have a extensive range of stickers and labels to choose from. It all depends on your intended use, we can have the right sticker to do the right job. We can manufacture your sticker and label to your specification and offer custom shapes and sizes. Our team of experts are happy to discuss further and make sure that you get the right product for the intended use.
Our paper stock for printing stickers are as follows:
Paper Stickers and Labels
Paper label stickers are the most common request from clients ordering stickers and label. We can manufacture these to custom shape and size to meet your specification and requirement. These type of sticker is best suited for internal or office use, as there not weatherproof or fades resistant. For outdoor purposes, we recommend vinyl stickers, which are ideal for outdoor use.
Removable Vinyl Stickers and Labels
If you are after stickers and labels that is durable and does not leave marking or any damage, may we recommend Removable vinyl stickers and labels. Removable stickers have less adhesiveness, making them easy to peel off and leaving zero marks behind them.
Permanent Vinyl Stickers and Labels
For a longer lasting outdoor product, we recommend you go with the permanent vinyl stickers. They are more fade resistant and offer waterproof properties, making them more durable. Ideal used for long term use.
Clear Vinyl Stickers and labels
Clear stickers are also a fantastic idea for any window surface or when a background needs to be seen. Our clear stickers and labels, can be printed either front or back facing in any size or any shape. All our clear stickers are easily removable without residue, which means you can stick them anywhere anytime that's convenient for you. You can also add more punch to your image by adding white ink underlay.
Ideal Use
Bumper Stickers
Branding and Marketing
Food Labels
Gift Wrapping
Health and Safety
Medical Forms
Office
Packaging
Parking Permits
Point of Sale
Signage
Visitor Passes